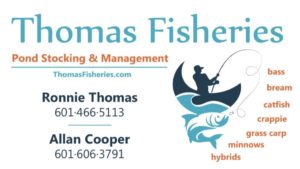 We're so glad that you've found Thomas Fisheries! We are a family owned and operated fish farm located in Hattiesburg, MS, specializing first and foremost in customer service and satisfaction for all of your pond and lake management consultation and needs. If you are looking for advice and answers to questions concerning all areas of your aquaculture needs and not merely a fish salesman looking to sell you quantities of fish, then you have found the right place, as we have one of south Mississippi's most experienced wildlife and fisheries biologist at your disposal!
Ronnie Thomas' experience and wisdom as a wildlife and fisheries biologist began over 42 years ago. He received a masters degree from Mississippi State University in wildlife and fisheries science, and retired from the USDA Natural Resources as a wildlife and fisheries biologist after 30 years in 2003. He has taken numerous aquaculture specialty courses at Auburn University, and has taught aquaculture courses across the United States and internationally.
Whether you are looking to attain a trophy bass pond/lake or a recreational fishing pond/lake for your family and children, Thomas Fisheries is committed to quality customer service and satisfaction to help you achieve the very best fish habitat possible! We can serve your all of aquaculture needs from advising your pond/lake stocking needs in new and older ponds/lakes, water quality testing, pond/lake management, fish quality and quantity analysis, fish disease management, pond construction and control of leaking ponds, pond habitat and weed management. We offer locally competitive fees and prices, delivery or local pick up, and the promise of the best service around. Please let us know how we can best serve you!
Find us on Facebook!
https://www.facebook.com/ThomasFisheries?ref=hl
Thomas Fisheries
Pond Stocking & Management
Ronnie Thomas | 601.466.5113
Allan Cooper | 601.606.3791